Toxic Beauty - Revealing the Truth about Cosmetic Products

Do you know what's lurking within your make-up bag? Toxic Beauty, the latest book by author and journalist, Dawn Mellowship, lifts the lid on the synthetic chemicals commonly found in cosmetic products.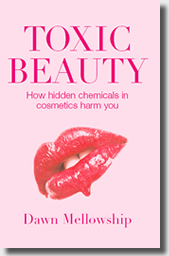 Did you know that your nail polish may contain formaldehyde, a suspected carcinogen? Or that four common chemicals in perfume are classified as hazardous waste by the US Environmental Protection Agency?
Every year we each absorb an estimated two kilograms of chemicals through beauty and cosmetic products. Chemicals found in lipsticks, skin lotions and hair dyes have been linked with tumours, cell mutation, allergies, reproductive complications, endocrine disruption and cancer. Isn't it time we all paid more attention to exactly what goes into the eye shadows, body washes and deodorants we love to use?
This compelling and timely book: tells you the key chemicals you should avoid, reveals how natural 'organic' beauty products really are and features a directory highlighting the issues surrounding everything from hair gel to hygiene products.
| | | | |
| --- | --- | --- | --- |
| Toxic Chemicals to Avoid Nature and Health Magazine | | | |
Friday, 02 October 2009 13:59
15 common chemicals to avoid. Nature & Health Magazine. October 2009.
"Phthalates, used as plasticisers and fixatives in cosmetic products and ubiquitous in consumer products, have displayed endocrine (hormone) disrupting properties in animal studies. Research has shown that they have an additive effect and can block the male hormone testosterone. They have also been linked in some studies with male reproductive disorders such as cryptorchidism (undescended testes), hypospadias (where the urethra is abnormally positioned on the underside of the penis), testicular atrophy (shrinking of the testes), lows sperm counts and testicular cancer. Formaldehyde is a suspected carcinogen, a contact allergen and common skin and eye irritant."
| | | | |
| --- | --- | --- | --- |
| Toxic Beauty on New Zealand News | | | |
Thursday, 19 March 2009 09:00
Toxic Beauty. Campbell Live. 3 News New Zealand. Monday 16 March, 2009.



On behalf of
Campbell Live
, Sky News producer Nickie Omer interviewed author of
Toxic Beauty
, Dawn Mellowship, about the toxic synthetic chemicals used in cosmetic products. Campbell highlighted that carcinogens have been found in children's bath products. Click on the link below to see Dawn Mellowship discuss
Toxic Beauty
and  a few of the main chemicals to look for.


Watch the video...